Treasure Hunt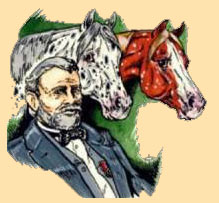 Chances are 1 in 8 that your Appaloosa has a hidden treasure in his or her
background........ RANGERBRED HERITAGE!
TO FIND OUT AT NO CHARGE,
SIMPLY PRINT AND COMPLETE THE FORM.
.
Mail the completed form to:
SHERRY BYRD
518 PINE GROVE RD.
ST. MARYS, WV 26170
For research purposes, the animal being researched MUST HAVE AN ApHC
NUMBER SHOWING ON THE PEDIGREE THAT IS LOWER THAN 279999. TheApHC Stud Books are not published beyond this point.
If your numbers are higher than 279999, the ApHC can be reached at: (208)
882-5578. Call and ask the Registration Dept. for the numbers of the Sire
and/or Dam of your animal. If the numbers are still too high, ask for the
numbers in the next generation, and so forth until you have numbers that are
low enough to be researched. If there are PC or ID numbers in your pedigree,
the ApHC can often give you the parentage on these animals, as well.
The CRHA Treasure Hunt is a free service to you, therefore your help in
procuring these necessary numbers is greatly appreciated. Please include
all available ApHC numbers in the pedigree animals. Thank you.
You should receive a response concerning your horse's eligibility for CRHA
registration within 30 days.
___________________________________________________________
Site Designed and Maintained by Sorrell Designs

Copyright Colorado Ranger Horse Association 2017